Commercial Telemarketing will help your business by increasing the number of sales leads and appointments within your sales pipeline.
We will focus exclusively on your cold calling and inside sales efforts and will allow your outside sales team to focus on educating prospects and closing sales. We will act as your commercial telemarketing team, so that your outside sales team can utilize their time wisely in closing and negotiating - rather than cold calling and researching for new business avenues.
Many companies outsource inside sales efforts to a third party such as Commercial Telemarketing, so that their existing sales team can focus on closing sales and securing new accounts. Many companies have limited sales resources and the sales team simply cannot reach all potential customers. Telemarketing, and cold calling is our specialty and our staff is fully trained in the related techniques.
Rich Enterprises was founded in 1999 on the premise that businesses must not only maintain, but must always seek new revenues and opportunities in order to succeed. We certainly look forward to answering your questions and meeting your outsourcing needs. Please feel free to browse our About us page for more information.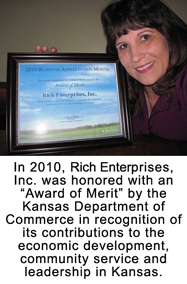 Our Contact Information
Please feel free to contact us via any of the following methods:

Mailing Address: Rich Enterprises, Inc. - PO Box 473- Lebo KS 66856
Toll Free Number: 888-443-5247
Contact Us
Learn more about what our customers say "about our b2b outsourcing campaigns".
For press and media information, please view our press kit.
If you are interested in working for Rich Enterprises, please view our careers page.
Proudly serving the United States and Canadian markets.